Yudith Bustos, Pastry Chef at Four Seasons, Washington, DC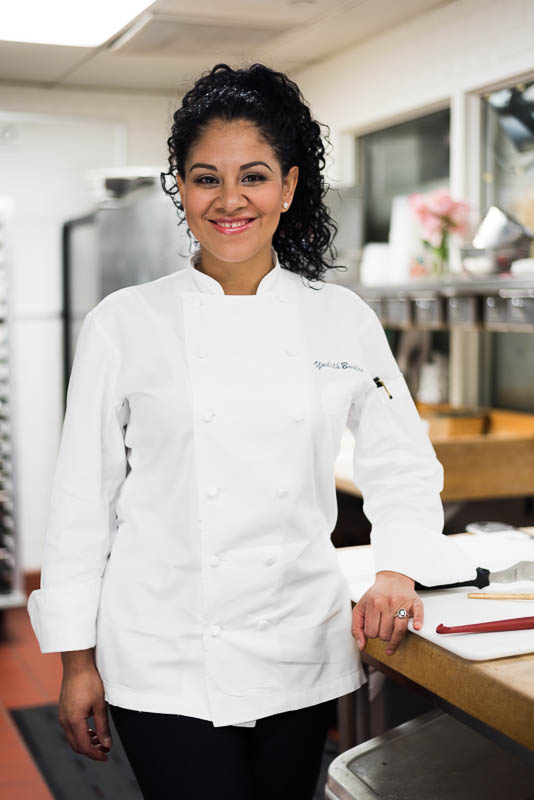 1.  Briefly describe your work/blog.
I am the Assistant Pastry Chef at Four Seasons Hotel Washington, DC and help lead a talented baking and pastry team.  Our team creates and prepares all the baked goods for In-room Dining, Seasons Restaurant, catered events and any special requests.
2. What inspired you to pursue this career? 
My love for pastry began in my hometown of Santa Ana in San Jose Costa Rica. I have a very good friend who owns a pastry shop and I had the opportunity to see and admire all the beautiful cakes my friend created. I found myself enjoying the smells of freshly baked chocolate chip cookies and the taste of a flan or Tres Leches. I wanted to learn how to make elaborate wedding cakes and design edible creations that got people excited. My biggest inspiration in my career is my mother who is always sharing her words of wisdom and support.
3. What is your favorite part of your creative job?
I love the challenge to create something new and amazing that will exceed our guests expectations.
4.  What role does your Latino roots have in your success?
I have encountered various challenges as a Latina in the United States.  As many Latinos have done before and will continue to in the future, I have won over my team and leaders with my dedication and work ethic.  This is something that I learned from my parents who learned it from their grandparents.  To be successful, one has to create their own luck; this is done through hard work. I have found this to be true in other Latinos who have obtained similar levels of success in the food and hospitality industry.
5.  What advice do you have for those who would like to follow in your footsteps?
One needs to have discipline and be responsible.  Every day we have the opportunity to learn something new.  You need to grab these bits of information and keep improving.  In my industry, people make mistakes everyday but you must never give up and instead you need to learn from them to continue your growth.  I also believe that you need to have a vision of where you want to be and having passion for your vision will take you there.
6.  What is your favorite saying in Spanish that inspires you to go forward?
My mother used to always tell me that "Quien no oye consejos , No llega a Viejo"
"Those who don't listen to advice, don't make it to old age"
Visit Yudith at Four Seasons Washington, DC
Photo by NikkRich Photography